We're in the New Year – Is it time for a New Career?
Challenger has great things to offer drivers!
A new year has begun, bringing with it a wave of new beginnings and fresh starts. Have you, like most people, started the year by evaluating the different areas of your life? Health and wellness, finances, career? We know the gyms will be full and the banks will be busy with clients bumping up their RRSP contributions, but how many of you are considering a career change? How many of you have considered training for your AZ driver's license and building towards a driving career?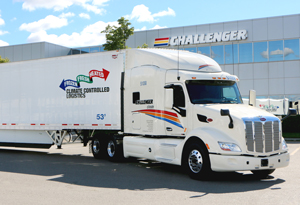 Maybe you've been truck driving in your current position for years or been with your current company forever. You're comfortable and you know what to expect, but is what you expect the same as what you actually want? Is it possible that there is a better option out there for you? Absolutely! It's time for you to explore what Challenger Motor Freight has to offer – great short haul and long haul driving careers, excellent pay, and much, much more!
Or maybe you've already made the decision that you want to change professions completely and you've taken the first big step by completing your training at an accreditted TTSAO certified driving school. Now it's time to find the right trucking company to make all your efforts worth while. Is there really one company that's a better choice than all the others? Absolutely! Our 'People First' philosophy, makes Challenger the premier Canadian trucking company that includes team driver jobs or solo long haul jobs.  Join our team and we will find the position that fits you perfectly.
Perhaps you're just starting out in the workforce and you have chosen a driving career. Good choice! You've completed your program at a TTSAO accredited driving school and are ready to hit the road. Is there a reputable company that invests time and effort into making sure you have everything you need for a strong start? Absolutely! Challenger is the right choice if you want a company that stands behind you and provides the training and support a new truck driver requires.
Need proof that Challenger stands above the rest as one of the best trucking jobs? Here is a list of just some of the advantages that being a part of the Challenger team will provide for you:
Benefits that start day 1
Signing Bonus – New!
State of the art equipment and facilities
Life Insurance, Dependent Life Insurance, Accident & Serious Illness coverage, Disability Insurance
Dental and Extended Health benefits including prescriptions, physiotherapy, chiropractor, and more
Pet friendly
Paid orientation and exceptional in-house training
Commitment to our "People First" culture
Driver Referral Bonuses
Carrier member of the TTSAO
Satellite radio
And many more!
Whatever your reason for striking out on this new and exciting path, there are many reasons to make Challenger Motor Freight the first choice for your driving career.
Whether you want to drive solo or if you're looking for a team driver job, you can start your journey to success today by checking out our current opportunities for both long haul driver jobs and local runs on our website.
While you're on the website, fill out our online application form and a Challenger Recruiter will contact you!
We're looking for Cambridge truck drivers, Vancouver truck drivers, and Montreal truck drivers (we are all over Canada!), and we want to connect with you – apply today to join the Canadian trucking company that fits your needs!
Karen Cardillo
Challenger