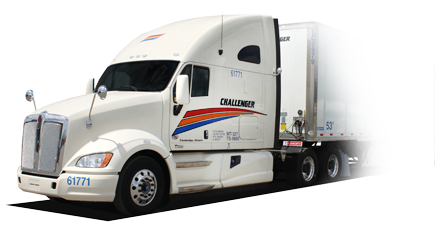 2010 – Current
Challenger Celebrates 40 Years – Forty years ago, Challenger started with only one truck. In 2015 the fleet has grown to 1500! Today we stand as one of Canada's largest privately held fleets, with capabilities to move freight all over the world. ‪‬‬‬
Advanced Commercial Information (ACI) Certification – After working closely with the Canada Border Service Agency (CBSA), we become one of the first carriers to complete our ACI testing and are ACI certified. The ACI program provides CBSA officers with pre-arrival cargo information (emanifest) so they are able to identify health, safety and security threats related to commercial goods before their arrival into Canada. Although the CBSA has mandated that all carriers be compliant by November 1, 2012, Challenger has continued its leadership practices by becoming an early adapter of the ACI program.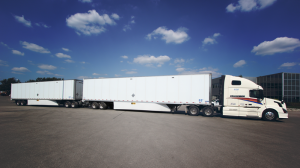 Long Combination Vehicles (LCVs) – We continue to develop and expand our LCV lanes by adding density and obtaining permits for new routes. Having completed a pilot with the Ontario Ministry of Transport and Revenue Canada, we identified a site at Canada Customs in Fort Erie as a viable solution for staging LCV trailers into the US. In Western Canada we have also dramatically increased our ability to utilize LCVs by certifying over 60 drivers with the appropriate credentials and sourcing shipments which are more LCV compatible.
2000's
Challenger turns 25
ISO 9001:2000 Standard certified and maintained
Opens new facility in Breslau, Ontario
BC Terminal relocates to Delta, BC for expanded services
New location in St. Thomas, Ontario to expand regional transportation services
MCX partnership to improve North American transportation services
Challenger expands services to include waste transportation services, called the Bulk Division
Implements C-TPAT, PIP and FAST trans-border customs programs
Implements joint US/Canada fatigue management program
Participates in Canada's Clean Air Corridor project, making Challenger one of the first companies to deploy heavy duty engines operating on Liquid Natural Gas (LNG)
Launches recruiting cruisers
State-of-the-art driver simulator is introduced into the driver training program
ACE truck system applied for greater security, processing time and accuracy
Construction on new headquarters in Cambridge, Ontario begins
Ontario offices merge into completed state-of-the art, LEED certified headquarters in Cambridge, Ontario
Challenger offers refrigerated transportation services
Challenger partners with green initiative program, SmartWay
Acquires assets from and assumes customer base of Inx Press Corporation, expanding Specialized Commodities Services
Challenger opens new terminal in Aldergrove, BC.
Challenger acquires assets of Sandrock Specialized Carriers
1990's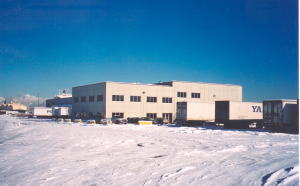 Westward expansion begins with opening of B.C. facility
Cambridge adds 105,000 sq. ft. of office and warehouse space
Challenger becomes a test fleet for the AVION & NATAP programs enabling drivers to transmit information via transponders for pre-clearance at border crossings
First carrier to provide transportation services across all of North America
Dan Einwechter elected Chairman of the Canadian Trucking Alliance and the Ontario Trucking Association
ISO 9002 Certified with a commitment to continuous quality improvement
1980's

Company grows to a fleet of 60 trucks
Receives the largest ever grant of operating authority in Ontario
First Quebec terminal opens in Montreal
First Canadian carrier to use two-way satellite tracking

1970's
Dan Einwechter independently launches Challenger while in university