Unique Transportation Solutions for Your Challenging Needs.

We work with you to design an efficient, value-added solution for your unique distribution needs:
Build a profile of your business including unique shipping requirements
Perform logistics audits to analyze current practices
Develop a detailed plan for your freight transportation
Execute all customs procedures
Monitor your freight online 24/7
Implement your plan using our vast fleet and advanced technology
We manage the best solution for distribution via our unbeatable support system:
Complete supply chain management including pick and pack, logistics and warehousing
Truckload, LTL, LCV and small parcel transport services
Expedited services
3pl and 4pl support
Intermodal, container shipping, air freight and ocean freight cargo shipping
International Shipping
State-of-the-art transportation management system
Exceptional IT support and reporting capabilities
Clean, modern equipment
At Challenger, we not only have an extensive asset based fleet of transportation options available to our customers, but we have transportation partners which allows us to arrange more efficient and cost effective routes for our customers through the work of our logistics department.
View our Service days from Cambridge OUTBOUND and INBOUND: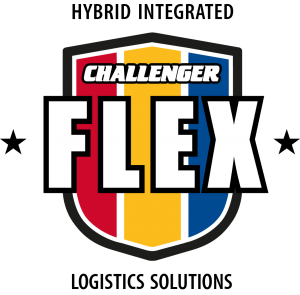 The Challenger Flex Model provides our customers with an unlimited and flexible capacity solution. Challenger utilizes select partner carrier solution for protection against unexpected situations such as capacity issues, delays and breakdown situations.
Benefits of the Flex Model include:
Elimination of Capacity Constraints
Superior Service Levels
Single Solution Provider– We understand your unique business requirements such as locations, in demand lanes, loading times, relationships with drivers, and additional costs
Become a Shipper of Choice
Provide Increased Flexibility (timing, transit, trailer drops, live loads)
Supply chain partners are instrumental to your success.  Utilizing the Flex Model will allow you to become a Shipper of Choice, delivering benefits across the supply chain helping sustain continued growth.