Introducing a Challenger Angel: John Weston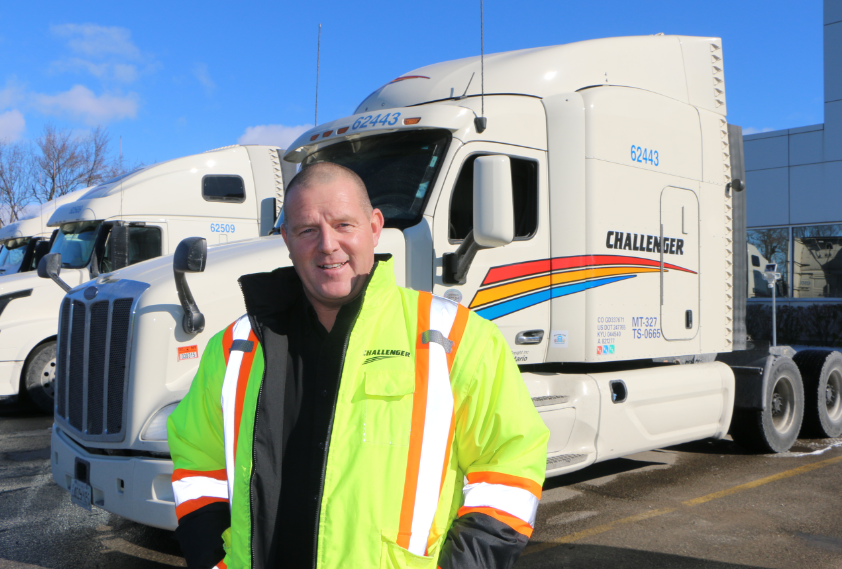 Challenger is honouring acts of heroism with the Challenger Angel recognition. 
On October 27, 2017 a tragic accident (not involving Challenger) occurred on Highway 401 Eastbound just outside of Cambridge. It was a chain reaction from the rear that started with one transport truck colliding into the back of another transport truck, which had stopped due to traffic. The momentum pushed the second truck into the back of a dump truck that had also stopped. The initial impact caused the most damage, and left much of the first tractor unrecognizable.
There was another driver who was not involved in the crash but who played a very important role at the accident scene. John Weston has been driving for Challenger for almost 10 years, and on that Friday morning, he was driving bobtail back to the Cambridge Challenger terminal at approximately 7:30AM. He was completing his last run of the week when he came across the horrific accident scene.
Sometimes the right person is in the right place at the right time, and John was certainly the right person for that place and time. John safely pulled over and with no emergency vehicles present yet, he was the first to stop to see what assistance he could provide. Remaining calm and thinking with a clear mind, he was able to first confirm that the two men at the side of the road were two of the drivers involved in the accident and that they were uninjured. He approached the wreckage of the last tractor, calling out to the driver as he did so, and through persistence, John eventually heard the driver answer his calls. He was barely able to see the top of the man's head, but that was all John needed. He was able to talk to the driver of the third vehicle, learning his name and other important information. His interaction with that driver was simple: calm words of reassurance, calling him by name and offering what physical contact he could. With the driver's agreement, John placed his hand on the driver's head reassuring him that someone was with him. It was a simple act of kindness in a situation that many of us would have avoided putting ourselves in. It takes a special kind of person to approach an unknown, tragic situation and remain calm and comforting.
When emergency services arrived, John was able to share all he had learned about the driver with them. Eventually the man became unresponsive and tragically, the trapped driver succumbed to his injuries. Thanks to John, he did not pass away alone; he felt the soothing presence of another person during his last moments.
Asking John why he had stopped when others had not, his very humble response was, "The reason why I stopped? I have no idea. We see accidents all the time. Why you stop – there's no answer for that. Nobody wants to go close to a vehicle when it looks like that. But a lot of the drivers on the Challenger team stop to help people. A flat tire, an accident, we just do it and go and carry on with our day. You'd be surprised how many people at Challenger do things to help other people. We aren't doing it to be recognized. You just do it because you do."  When asked if he had any similar experiences, he spoke about two other accidents that he had stopped and assisted at.
When asked what he would say to other motorists that see accidents that have just happened, he shared that you can't just tell people to stop, because that's up to them. But if they do stop, they should get as much information as they can: names, how many people are in the vehicle, any pets. Be calm and reassuring and keep calling out to people because their condition may change and you may eventually get a response.
So early in the morning on October 27, 2017, a very good man did what was in his heart. John Weston risked seeing things that he could never un-see to give a caring and comforting touch to someone in need, not for recognition but because "you just do it because you do".
(Written by Karen Cardillo, after interviewing John Weston)

Presenting the Challenger Angel Award
Due to his outstanding actions in the face of hard circumstances, John Weston will be the first recipient of the new Challenger Angel award.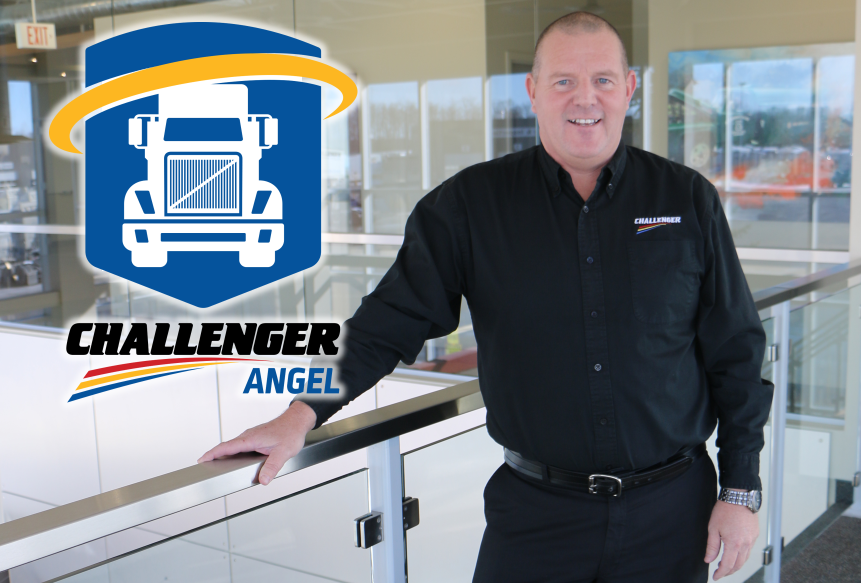 At Challenger, we dream of having safe roadways for all motorists, where accidents never happen. In reality, accidents do occur, and like this instance, they can have tragic results. But sometimes there is an angel nearby. Sometimes those angels are Challenger drivers and staff. In appreciation of those angels, we have developed the Challenger Angel program to recognize and to honour our employees who have gone completely above and beyond their roles in order to help others when emergency situations arise on the road. Challenger Angels are recommended through nominations submitted to Steve Newton, Director of Safety. The Challenger Angel program is our way of saying thank you to those that step up and step in to truly make a difference in extraordinary situations.
If you think you know a Challenger Angel, nominate them by contacting us at Challenger, directing your message to Steve Newton.