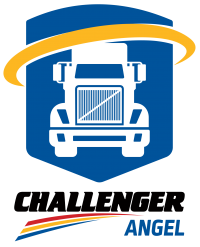 We would like to introduce you to Terry McKnight, a Challenger driver for more than 24 years, Terry currently drives with our Toyota division. His most recent accomplishment has been joining the elite group of drivers and employees who have earned the Challenger Angel Award. This award goes to men and women of Challenger who not only perform their duties, who not only do something beyond the scope of their jobs, but who truly go above and beyond to assist others in their time of great need.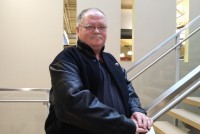 This is Terry's story.
On October 23, 2018, Terry was driving his truck near the 10 mile marker heading into Cincinnati, Ohio. It was approximately 3:00pm and traffic was pretty heavy. A car coming down the on ramp caught his attention because he could see that it was moving much too quickly. Terry immediately started to slow down in anticipation of something going terribly wrong. The driver attempted to merge into traffic between two vehicles in the fast lane, but she was driving too fast. Her car hit one of the vehicles sending it across three lanes of traffic where it came to a stop safely on the side of the highway. On impact, the car that was merging onto the highway flipped onto its roof and slid a fair distance down the road. The two vehicles between the accident and Terry's truck swerved around the car and kept going, as did vehicles in the other traffic lanes. But Terry, who had already started to slow down before the impact, safely pulled his truck over and positioned it so that it was blocking the car that was on its roof. Other vehicles continued to pass the scene without stopping. The car had sustained serious damage and Terry did not know what to expect, but he rushed from his truck to see what needed to be done to help the woman. Luckily, in this instance, the driver had not sustained any serious injuries, so Terry helped her get out of the overturned vehicle and notified the police. He stayed at the scene until police arrived and he gave his statement about what he had observed. The whole episode took less than 25 minutes. The police expressed their gratitude to Terry for stopping when so many others had not and for positioning his truck so that further collisions with the overturned car were avoided. In Terry's mind, he had not done anything extraordinary. In his words, he had just done "what anyone should do". He added, "I was brought up the proper way, brought up rough, but right. You don't help out in a situation like this for the recognition, you just stop and help someone that needs it".
Included in the nomination for Terry to be considered for the Challenger Angel Award, it says, "The fact that Terry was the only person to stop to help this complete stranger, is proof enough that what Terry did was remarkable. He completely went above and beyond his duty, and made a difference in the life of a stranger". We agree.
Congratulations Terry on your receipt of the Challenger Angel Award, and thank you for going above and beyond!
The Challenger Angel program recognizes and honours challenger employees who have gone completely above and beyond their roles in order to help others when emergency situations arise on the road. The Challenger Angel program is our way of saying thank you to those that step up and step in to truly make a difference in extraordinary situations.
If you think you know a challenger Angel, nominate them by contacting Steve Newton, Director of Safety.