Challenger Named 2017 Road Warriors
On Wednesday September 20th Geoff Topping (Vice-President of Human Resources) and I had the honor to represent Challenger at the Toronto Daily Bread Food Bank's "Best in Class" awards night. Challenger had been nominated for the Daily Bread's "Road Warrior" award along with two other nominees. We are proud to say that Challenger was named the 2017 Daily Bread Foodbank "Road Warrior".  This award is presented as a way to recognize an organization or company that has shown commitment to ending hunger by providing volunteer drivers, transportation equipment and vehicles. Challenger has clearly stood out and exemplified this, particularly through willingness in assisting with events in the past year.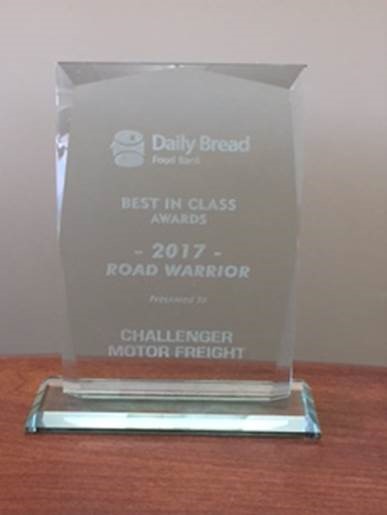 Throughout the entire evening leading up to the award presentation, Geoff and I were met by glowing reviews of Challenger's drivers and how professional and polite they are and their extreme willingness to help where needed. This was a proud moment for all of us as this exemplifies our People First Culture and we should feel great pride knowing that we as an entire team and company are in a position to be able to give back. Since 2016 Challenger has donated many, many hours of transportation assistance to the Daily Bread Foodbank and we have delivered a whopping million plus pounds of food to that facility since 2016.
I am proud to be part of an organization that has affiliations with such organizations as Trucks for Change and that we are able to support organizations such as the Daily Bread Foodbank along with many, many other charitable initiatives we do over the course of a year. We are truly a contributing member of our community and beyond.
Way to go Road Warriors!
John Schofield,
General Manager, Full Truck Load Vans
Challenger