Challenger Welcomes Trucking HR Canada To Our Corporate Office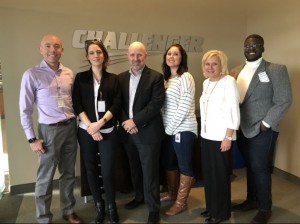 On Wednesday, November 26th our HR team welcomed Trucking HR Canada to our Cambridge office. Our HR team works closely with this organization as they have a mandate to promote the transportation and logistics industry as a great place to work. Trucking HR Canada also manages the annual Top Fleet Employers Program, which has recognized Challenger for the past five consecutive years (most recently awarding us with the Achievement of Excellence Award for Best Workplace Culture).
The purpose of their visit was to provide them with a tour of our Corporate Office and Maintenance Shop as well as answer any of their questions about Challenger and our recent people and technology initiatives. We were excited to show off our amazing facilities, and the Trucking HR Canada team was impressed with the amenities that we provide our teams including our driver training classroom, CTTA classroom, driver simulator, maintenance areas (they commented on how clean and spotless all areas were!) and Loading Zone retail store. Thank you to all of our employees who stopped to say hello and introduce themselves while we were hosting these special guests.