Keeping our fleet on the road!
A look at Challenger Maintenance
State-of-the-art. Innovative. Benchmark. Impressive. Quality. These are all words that are used to describe the 55,000 sq. ft. maintenance facility located at Challenger Motor Freight's Cambridge, Ontario head office, and the work that is executed within it.
The maintenance building houses three five-ton capacity cranes as well as in-house alignment equipment. The body shop contains a full size paint booth with the capacity to house transport trucks. All on road breakdowns that our AZ drivers experience are managed through the Cambridge Maintenance Facility. We are certified as a sub-dealer of Volvo, Freightliner and Paccar. This certification means we can do warranty repairs in house.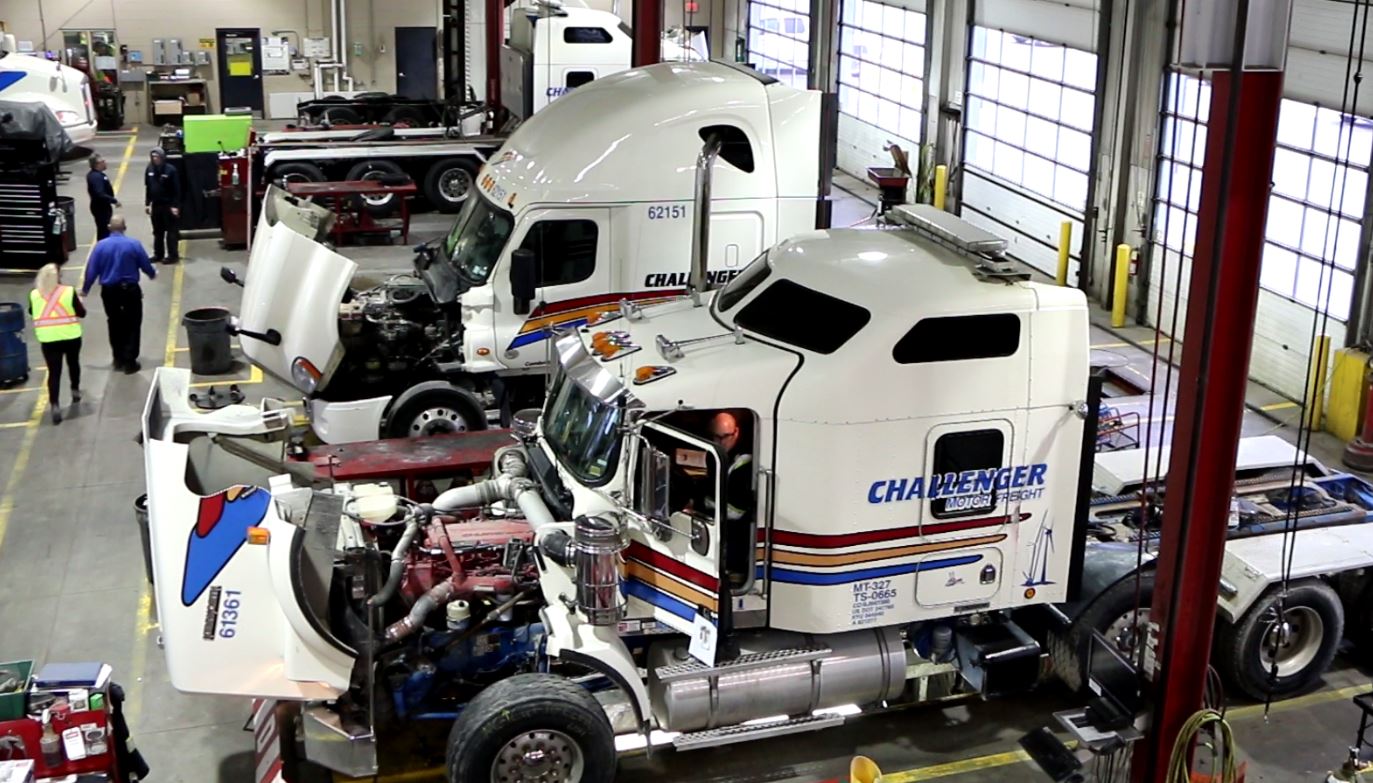 As a Canadian trucking company, Challenger is proud of its designation as a LEED (Leading Environmental and Engineering Design) certified facility. This designation verifies that Challenger has made a significant investment in various systems and processes that are environmentally safe and sustainable. This includes building construction, conservation of energy used for heating, lighting, water flow and waste disposal. In our maintenance shop this also includes features such as the in floor heating system which eliminates fans and blowers and ensures that dust does not blow around. Moreover, our advanced lighting system automatically dims the lights in areas where no activity is detected. These are just two of the features that helped Challenger earn the LEED certification.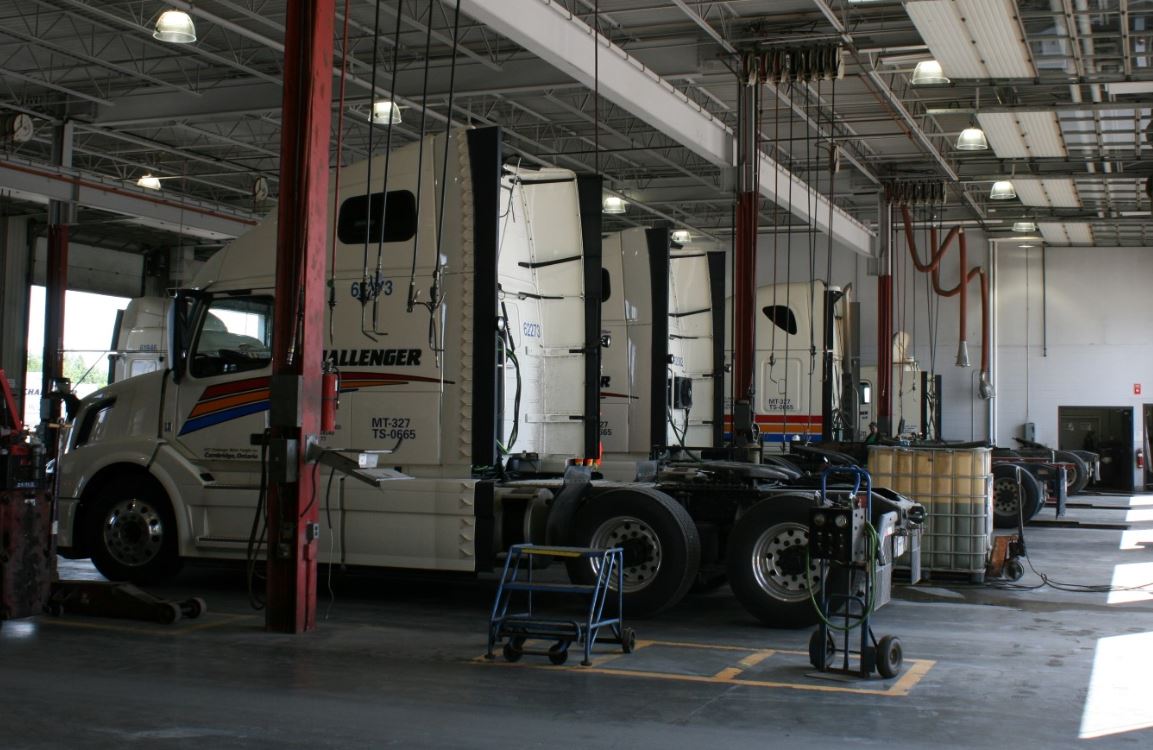 Chris Iveson – Director of Maintenance says, "Although we are a support service of Challenger, we really consider ourselves to be a retail operation, in that the men and women who have chosen truck driving jobs and those who work in Operations are our clients. Satisfying that client base is the key to our success. We have an internal target of no more than 5% of the fleet out of service for maintenance at any one time. Last year we operated at an average of 3.75%."
In addition to performing maintenance and repairs to the fleet, we also assist with forklift and working at heights training. This is another method in which we can assist other departments. Chris also states, "We are the caretakers of the yard, performing after-hours shunting, parking and even operating as a cross-dock in urgent situations. Yes, we fix trucks but we also provide solutions for any other area we can. We will never be the road block."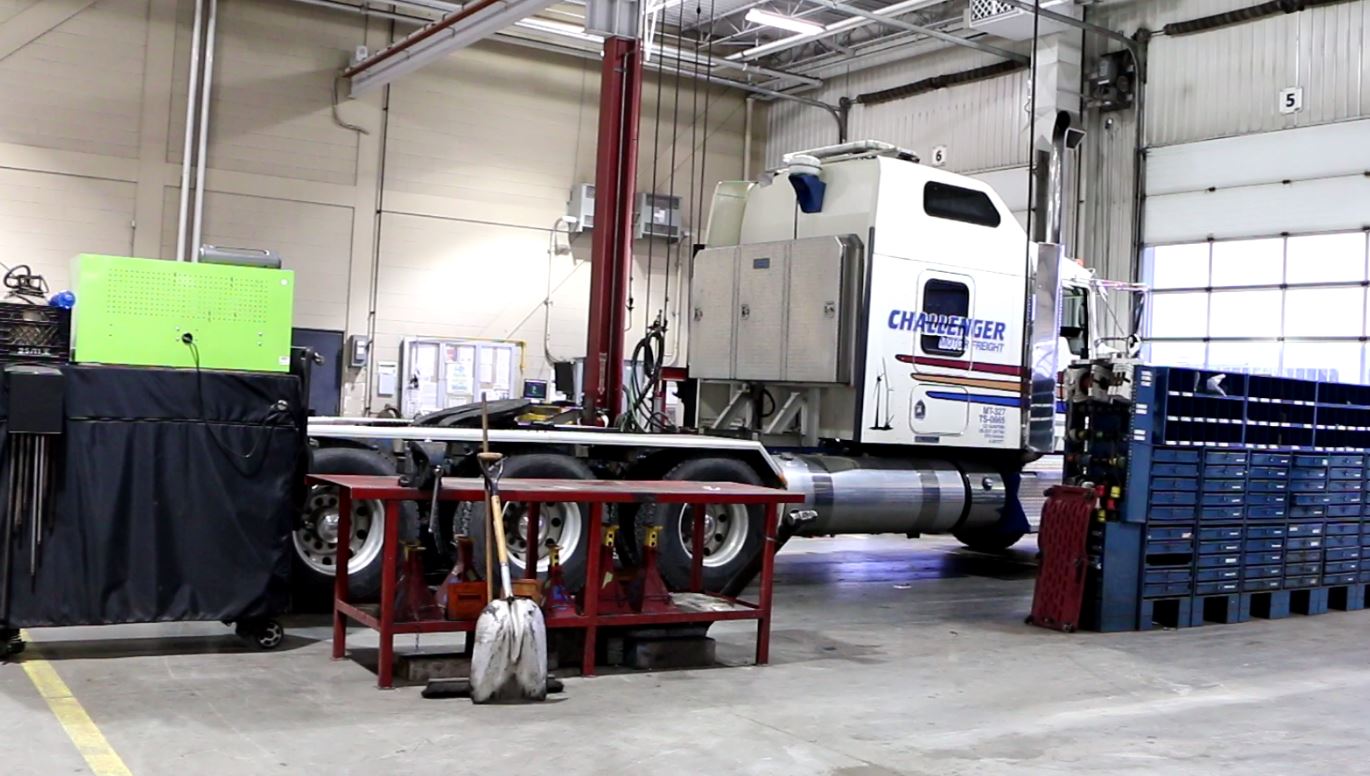 Crucial to the success of the Maintenance Department is the team that makes it all happen: the mechanics, technicians and apprentices that cover the 24/7 demands of the job. The teams work together and are empowered through maintenance stances (policies). These policies aid in making determinations regarding what repairs are necessary, and what is needed to complete those repairs. Each shift also has a team leader in place to assist and provide advice when needed for difficult decisions. Chris also holds quarterly maintenance facility voluntary round table meetings at each shop. "I travel to meet with all the mechanics in order to give them a voice. These are feedback sessions and I ensure that we act on the things that we can act on. They have a real input into how things go. Do we please everyone? No, but we certainly try."
Driver feedback reinforces that we are on track with their expectations. Every driver whose truck goes through Maintenance receives a score card to evaluate their experience and the department currently has a 4.7 out of 5 rating. How do they keep that rating? Training, training, and training. Every week our technicians have one hour of paid training to ensure they are up to date on all of the technological advances. They have access to the same training as a master technician at Volvo, Freightliner or Paccar.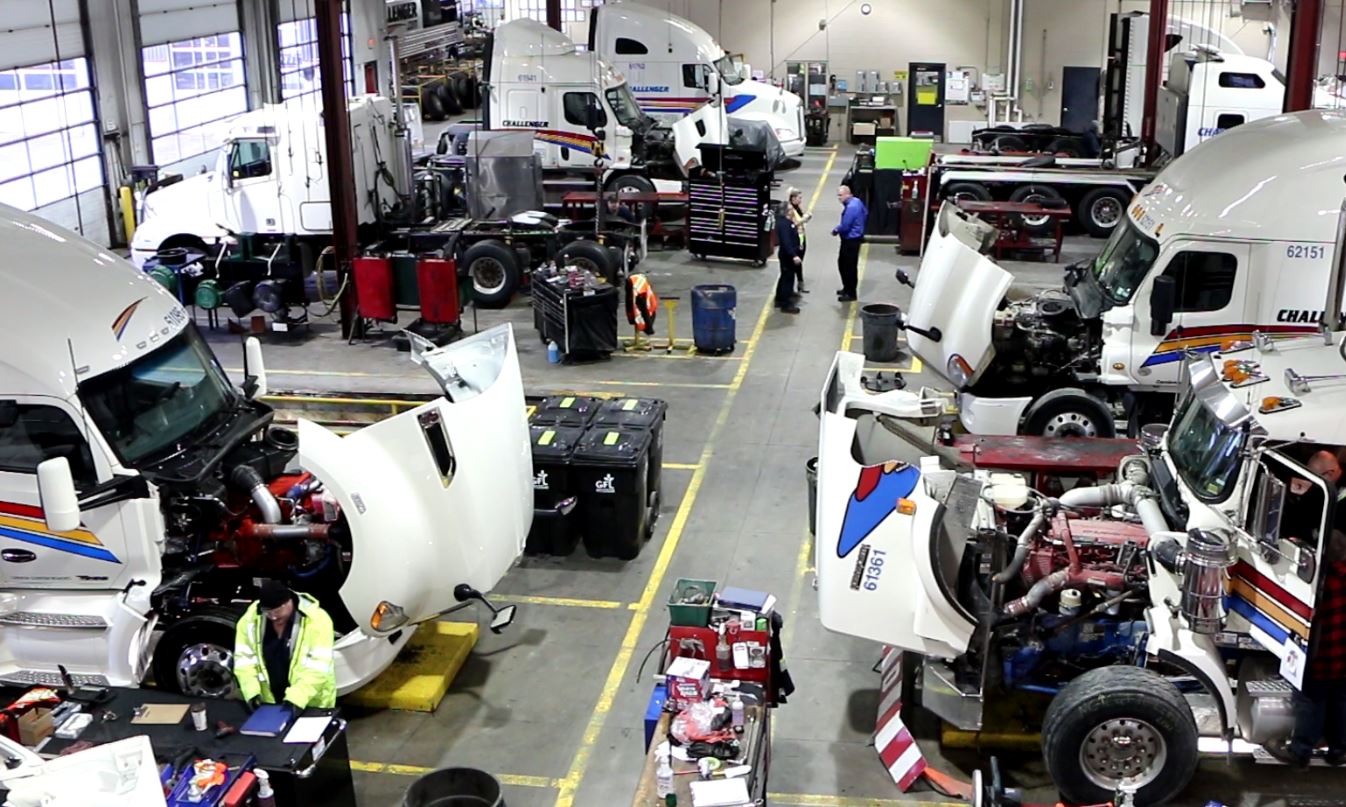 The work environment creates a family culture in the Maintenance Department. Technician teams are friends at work and friends outside of work as well. Night shift teams will go for breakfast after their shift. Teams will work modified shifts so they can go out to celebrate birthdays or other milestones. Furthermore, the staff partake in team BBQs and pancake lunches. All of these events help create a supportive and cooperative work environment.
Chris told us, "This trade has been extremely good to me. When I started out, I never expected to be where I am today with Challenger and I feel that it is very important to pay back what I have been given." He does that by being as involved as he can in mechanic and technician training at the College level and guiding our in-house apprenticeship program. Chris also stated, "I want to get to them at a young age and change their mindset. I want to show them that this is not a mundane trade, that there is great potential in this career choice."
We are regularly growing our maintenance team. If you are interested in a career at Challenger, please see our current opportunities here: www.challenger.com/careers
Karen Cardillo
Challenger