Challenger has many caring individuals among its teams, and this past Holiday Season showcased many great Challenger people going the distance for others in our community. In addition to numerous other initiatives, Challenger's people supported Shiloh Schmidt from Health and Safety, who held the 4th Annual Friends that Care Shelter Project.
Shiloh, along with a couple of her friends, founded the Friends that Care Project, which collects much needed items for women's shelters and services across Waterloo Region. With the help of those at Challenger, she was able to exceed the original goal of 80 gifts. In the end, 105 full gift bags, plus boxes of purses, food and other larger items were delivered to women's shelters across Waterloo Region.
"I'd like to say a huge Thank You to everyone who donated items, as well as cash, for us to purchase much needed items for the Project. I'd also like to send a sincere thank you to Melissa Bowman in Finance and Elizabeth Joyce in Breakdown who not only collected items but also volunteered their time to help us assemble all the gifts. I am truly blessed to work amongst such caring individuals. I can say with great certainty that Challenger helped to brighten the lives of many less fortunate this Christmas. From the bottom of my heart thank you to everyone who made this so successful."- Shiloh Schmidt, Corporate Health and Safety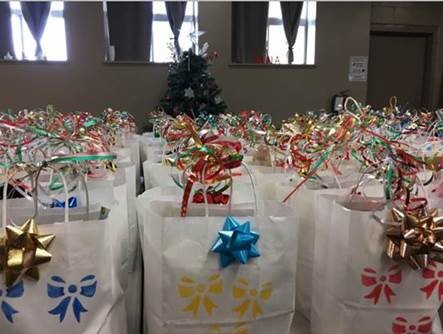 Challenger has demonstrated once again the ability to effectively come together as a team and make it happen.
Naturally, needs for shelters and local charities extend beyond the holiday season. Should someone be interested in donating time, products or money towards Women's Shelters, Shiloh recommends they reach out to The Women's Crisis Services of Waterloo Region.
Tabitha Frickey
Marketing Assistant