In the Right Place at the Right Time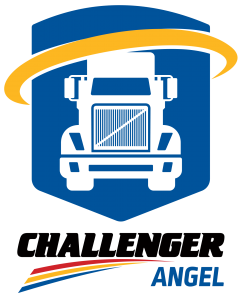 Thursday, January 4, 2018 was a frigid day with temperatures hovering around -20C … and that was before wind chill was factored in. Challenger driver Tina Powell had finished her shift and was heading home in her personal vehicle. She had stopped to pick up dog food for her 4 legged driving companion, Bruno, and was driving down Highway 8 at approximately 3:00pm. Suddenly, just ahead of her, a car merged onto the highway and made contact with another vehicle, causing a four vehicle chain reaction accident.
Seeing that the car that was hit had spun off the road and hit a snowbank then a concrete wall, Tina reacted quickly, putting on her four way flashers and stopping her vehicle so that it blocked oncoming traffic. Not knowing what she would find, Tina hurried to the severely damaged vehicle that had collided with the wall. Luckily the couple that was in the vehicle appeared to have suffered no major injuries.  Tina has plenty of first aid experience, having taught courses herself for a period of time, so she knew not to move the man or his wife. She continued to ask if they were alright and if they were cold. She got blankets from her own vehicle to keep them warm until help arrived. Tina also checked on the people in the other vehicles and between all of that, she also worked at directing the oncoming traffic around the accident, sometimes it pays to wear hi-visibility clothing for your job! An OPP officer eventually asked her if she would mind helping the couple into her own vehicle to warm them up, which she gladly did.
In true Challenger Angel form, when I talked to Tina about what had happened, she downplayed her role in the incident saying, "My first thought was just that I hoped no one was hurt, then you just get to the task at hand and do what needs to be done. It's just part of being human. I wasn't expecting any recognition." In fact, if someone here at Challenger hadn't happened across an online review that the gentleman involved in the crash had written, no one would have even known what Tina had done. And yet, fate put her in the right place at the right time to help those people.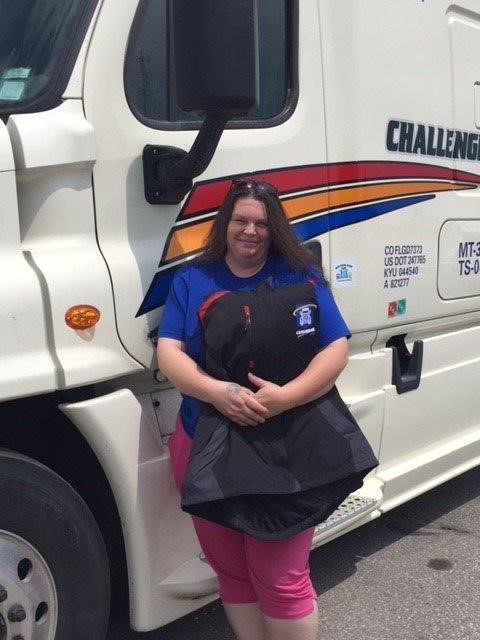 She could have taken a different route home or she might not have stopped for dog food and would have been ahead of the accident. But she was at that place at that time and she provided help and comfort to people that were shaken and afraid.
If you come across an accident Tina's recommendations are; "Do your best to stay calm, and even if you are not someone that is calm in that kind of situation there are still things that you can do to help such as calling the police or providing blankets." She also recommends always having a first aid kit and a blanket in your vehicle.
Tina has been a professional driver in one capacity or another for 24 years and she has been with Challenger for over two years now. Both Tina and her partner, Dave Cole, are Toyota drivers out of Woodstock, although they each drive solo. It's a lifestyle that works well for them.
If you know of a Challenger employee or driver that has done something that you feel was above and beyond the scope of their 'job', and you would like to nominate them for the Challenger Angel Award, please email Steve Newton, Director of Safety with the details.
If you are interested in joining the Challenger driving team please send an email or give our recruiters a call at 1-800-334-5142. You can also apply online.
Come and enjoy a First Class Driving Experience with Challenger!
Karen Cardillo
Challenger