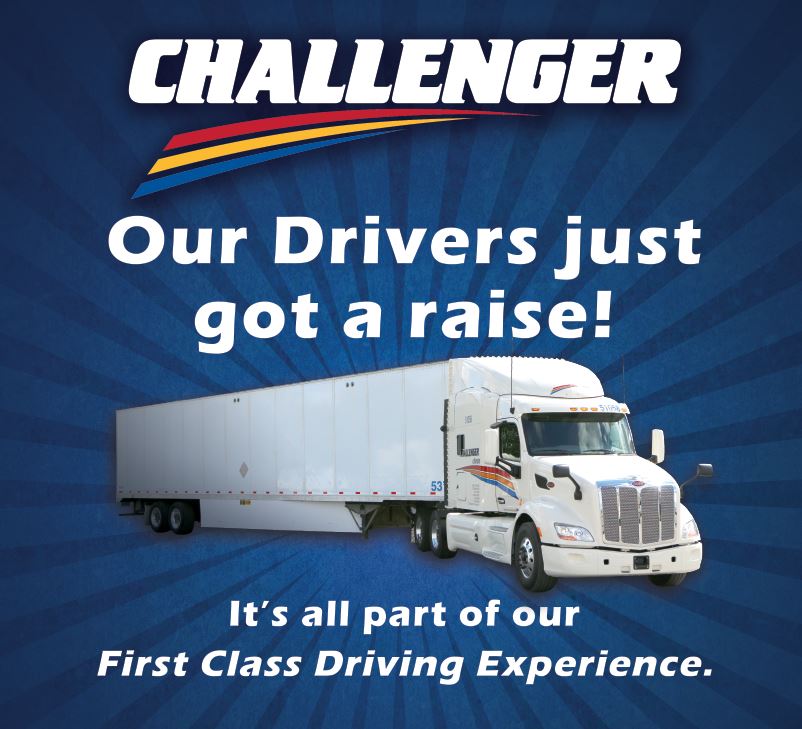 Driver Raise Across All Challenger Divisions!
Challenger Drivers are getting a raise, as we launch our increased compensation for Drivers and Owner Operators starting March 30th.
Our driving force has been very excited since our announcement two short weeks ago about our new Compensation Packages. At Challenger, they start March 30th and Elgin Motor Freight's new packages start on April 1, 2018. The new packages are seeing both Drivers and Owner Operators receiving higher rates and more streamlined packages.
While the compensation package in each Challenger Division looks different, the Driver response across the company has been tremendously positive – the increase is very welcome! No matter the division or experience level, Challenger drivers are getting paid more! It's a great time to join our team if you have been considering a new carrier.
Being a driver for Challenger is First Class, all the way! We offer a First Class Driving Experience that includes these industry leading compensation packages across all our divisions.
Our dedicated support teams are there for you 24/7, making sure drivers are successful on the road. We have upgraded, late-model equipment which is well-kept through our advanced maintenance facilities. Our training program takes new driving school graduates and makes them professional drivers, and we offer regular training to keep our drivers' skills at their best. Our commitment to our drivers is reflected in our attitude towards safety– we don't compromise on safety for anything – on the road or in the yard. We understand that drivers have lives outside of work, so we do what we can to help out when they need to take care of personal matters. Challenger is one of Canada's Best Managed Companies as well as a 2018 Best Fleet to Drive For, and we have the awards to show for it! We have trucking at our roots at Challenger, and we're supported by a First Class team.
And now, as of March 30th join Challenger and enjoy our new driver pay package that includes leading rates, great bonuses, benefits (from day one for experienced drivers) and other perks.
Ready to be treated First Class?
Apply online or speak to one of our Recruiters today to learn if Challenger is the right company for you!
1-800-334-5142